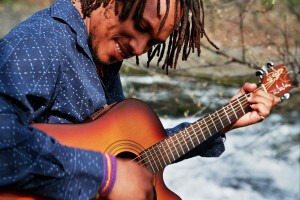 Sheldon Blackman is a performing artist, musician, singer and songwriter from the Caribbean island of Trinidad and Tobago, now based in Oslo Norway with his band THE SOUL REBELS. His music is best described as "Caribbean heart beat music!" expressions of Calypso, Soca, Reggae, Rapso and Jamoo fused with elements of jazz, blues and urban music.
Sheldon has six solo albums under his belt, the three most recent being "New Day", "Up Close" an acoustic album, and "Hope", which was made with his Oslo based backing band: The Soul Rebels.
Sheldon was born into the musical royal family of Trinidad & Tobago. His father, Ras Shorty I, created the national musical style of Soca and founded the family band The Love Circle. After his father passed on, Sheldon led the Love Circle and also started his own solo career. For the last nine years Sheldon has been a resident of Oslo, Norway, where he has set up one of the town's most dynamic and exciting open stage project called "Open Xpressions". The project includes information and discussion forums for aspiring artists, showcases for established artists and an open stage for artists of all kinds.
His latest album, New Day, is a compilation of some of his released and unreleased work from the last five years. The cohesive and colourful album includes the 2013 release 'Show Your Colors' (feat. David Rudder & 3Canal), the title track 'New Day' recorded live at Open Xpressions, Norway and, in his own words, "a very special and sentimental song written and recorded for my mother Claudette Blackman only 3 months before her passing in February 2017″ …'Christmas With Mamma'
Sheldon has also appeared in musical theatre productions in Oslo. Nordic Black Theatre's "The Harder They Come", based on the classic Jamaican film. "Legends" – a theatre tribute to Bob Marley and Peter Tosh, and a long running production of the musical "Hair" in Trondheim.
SHELDON BLACKMAN never fails to make people dance, sing along and feel uplifted!